For Kids Only
The best little gun safety page for kids on the 'Net.
This Page Last Updated 04/30/2016
Welcome to my gun safety page for kids. This gun safety and firearm education page has received more than 100,000 visits. On this Web site, children can learn the basics of safe gun handling, as well as take a look at questions that have been submitted by children from all over the world. Please consider getting your child a Junior Membership to the NRA. There are many benefits to becoming a Junior NRA Member such as a magazine, an iron on patch, stickers and a coupon book!!

On this page, children will learn what to do if they find a firearm in an unsupervised situation.

Accidental firearm related deaths are at an all-time low in the United States. My primary goal is to make certain that kids stay safe around firearms at all times, in both supervised and unsupervised situations.
---
---
Bookmarked subjects for kids:
*Takes you to another page.
NRA Youth Shooting Camps! Click for more info
---
---
The National Rifle Association offers Junior Memberships for children ages 18 years old and under. The cost for a Junior Membership is only $15.00 and comes with a subscription to Insights Magazine.

Go get your Dad or Mom and ask them if you can become a Junior Member of the National Rifle Association for just $15.00. As soon as you've convinced them, have them go here with a credit card ready.
With the NRA Junior Membership, you'll receive a membership card embossed with your name, an NRA patch and a coupon book, which has savings on such things as air guns, safety glasses and other related products, in addition to online access to their Insights magazine.
---
---

Hi there kids, welcome to my gun safety and education page that is dedicated just for kids. Here you will learn a few things about history and guns. But more important than that, you will learn what to do if you find a gun in an unsupervised situation.
Kids, please listen very closely to what I'm about to say:
In the year 2001, which is the latest year in which statistical analysis is complete, there were 182 unintentional firearm related deaths. One hundred eighty two (182) families had to bury a child in 2001 because of the mishandling of a loaded firearm.
You can help prevent this number from getting any higher and you can help me bring it down to almost nothing, by reading everything on this page with your parents and telling at least five (5) friends about this page concerning gun safety for kids.
To break this statistic down and put it in perspective, please read the following:
Unintentional Accidental Deaths Involving Firearms by Age Group in the year 2001 Ages 0 to 19
| | | | | |
| --- | --- | --- | --- | --- |
| Age Groups | Ages 0 to 5 | Ages 5 to 14 | Ages 15 to 19 | Total (182) Kids |
| Male | 12 | 49 | 102 | 163 |
| Female | 3 | 8 | 8 | 19 |
Let's take a few moments of your time today and analyze what these numbers really mean. There are fifty-two (52) weeks in a year. That means that about one (1) boy each week died and had to be buried who was between 5 and 14 years of age. In the same age group, eight (8) girls died and had to be buried because of an accident with a gun.
If you are a boy between the ages of 15 and 19 years old, the story gets about twice as bad. About two (2) boys each week between the ages of 15 and 19 died in the year 2001, because of the mishandling of a loaded gun.
With all categories considered more than fifteen (15) kids every month are killed and have to be buried by their parents and grandparents because of the mishandling of a loaded gun.
On the rest of this "For Kids Only" page, my "Kids Questions", "Kids Test" "Safety Pact" and my great "Safety Rules" page, you can learn how to be safe around guns.
You really don't want your parents and grandparents to have to go through the terrible shock of losing you to an accident with a gun. Read on, boys and girls, read on.
If you have any questions, please feel free to use my "Kids Questions" page and I will reply to your question if I can.
---
---
Kid's Questions
Click here for a child to send me questions about guns, gun rights or gun safety
---
---
Thousands of times you have seen guns mishandled and used inappropriately on television and in the movies. DO NOT let the entertainment industry influence you on how firearms should be handled.
Guns on television and guns in the movies are almost always handled incorrectly. Firearms must be handled properly to completely avoid a tragic death through an accident.
Sometimes, the best way a gun should be handled is NOT TO TOUCH IT AT ALL. Take time to learn more about guns, their history and their proper use.
---
---
A Little History
You may have learned on another page on this Web site that the first gun was invented sometime before the year 1300. We can only make our best guess at this date because real accurate records from more than 700 years ago were not kept or have not survived this long.
Can you imagine that people were able to have guns more than a hundred sixty (160) years before Christopher Columbus came to America?
The first guns were fired with burning sticks or hot coals and were called hand cannons. The first time that the term "handgun" was used was in about 1388.
This is a picture of a gun from right around the time the term "handgun" was first used.
Since that time, technology has advanced to what we have today. However, it is important for you to know that the firearms that we have today function pretty much the same as they did in the nineteenth century. The semi-automatic rifle was invented in 1890 and the semi-automatic handgun was invented in 1895.
---
---
What If You Find A Gun Somewhere?
This section is the most important section on this Web site.
The information that is contained in the below paragraphs can save someone's life. Please read the whole section and discuss it with your parents and friends. Then E-mail your friends with this Web Page or give them the address.
In the last few years, there has been a big increase in the number of crimes that are being committed by young people. Between 1987 and 1996 juvenile arrests for violent crime rose by 40%. In the United States, there are more than a half a million gang members. Every year about 12% of elementary and high school teachers are threatened with violence by students.
With this increase in violent crime by young people, there is a greater chance that a child might find a gun in a place where young people hang out. These places include parks, playgrounds, and wooded areas.
Also, if your parents have chosen to have guns in your house, it is extremely important for you to realize that it is not ok to play around with those guns. Even if you know that they are not loaded.
If you come upon a gun that is in your home or outside, you should do the following things:
Repeat these rules with me at least 5 times:
STOP AND DON'T TOUCH IT.

LEAVE THE AREA

AND TELL A RESPONSIBLE ADULT WHAT YOU FOUND

---

---

There are many reasons why you should never touch a gun that you find outside your house.



It is likely that the gun was used in a crime and then thrown away.



The fingerprints on the gun could be very important in solving a crime and touching the gun could destroy them.



The exact place that the gun was found might also be important evidence in an investigation.



There could be other evidence in the area such as blood and footprints, you should leave the area immediately.



The gun is very possibly loaded and ready to fire.
For the above reasons, it is also very important that even a parent or adult who knows all about gun safety, does not touch the gun either.
If a gun is found outside the house, it should never be touched, except by a police officer. As soon as possible, a police officer should be brought to the scene. NEVER TRY TO BRING A GUN THAT YOU FOUND TO A PARENT, ADULT OR POLICE OFFICER. You should instead, bring the police officer to the gun. This is the right thing to do.
One more time
If you find a gun:
---
---
Do you think it is easy to tell a real gun from a toy gun?
Don't answer so quickly...
Many models of handguns that are intended for carrying are very small and could be easily mistaken for a toy.
If you find a gun outside or in a friend's home NEVER assume that the gun is a toy.
Some models of small caliber handguns like the .25 ACP can weigh much less than a pound.
If you are not ABSOLUTELY CERTAIN, that the gun is a toy, you should not handle it at all.
If it has an orange or red plastic stopper, in the end of the barrel and is made of plastic, it is probably a toy.
If you are not certain that the gun you found is a toy, you should not pick it up. However if some child hands one to you and it feels heavier than a toy should be, it is probably real.
If another child hands you a gun which is heavier than you think a toy gun should be, and it does not have an orange or red plastic stopper in the end, you should place the gun carefully right back where it was found and you should leave the area immediately, then tell a parent what you found.
If someone hands you a gun that you think may be a real one, don't panic. Always point it in a safe direction, probably at the floor, keep your finger off the trigger and alongside the frame. Then place it where it was found and calmly walk away.

This is a real revolver made by North American Arms. It is a well made quality firearm, that is manufactured specifically for concealed carry because of its small size. It weighs just 4oz and is just over 3 1/2" long.
It may not be as easy as you thought to tell a real gun from a toy, huh?
---
---
Eddie Eagle
Eddie Eagle® is a registered trademark of the National Rifle Association's gun safety program for kids. It is the nation's most popular gun safety program geared toward children and has been incorporated into school systems throughout the country. Please get your parent's permission and click on the Eddie Eagle® Home Page below. There is a bunch of material available including a videotape, booklets, pamphlets, stickers, coloring books and much more!!!
This program was begun by a woman named Marion Hammer. She lives in Florida and is a Past President of the National Rifle Association. Thank you Marion!!!
Become a Junior Member of the National Rifle Association. Just tell your parents to go to this page. You get a magazine called Insights that is specifically meant for kids.
---
---
On nearly every model of firearm, there is no way you can tell if the gun is loaded just by looking at it.
If you have proper adult supervision and you have been invited to a gun club or shooting range by a parent, grandparent, aunt or uncle, you should NEVER be handed a loaded gun by them until you are taught proper gun safety procedures with an unloaded gun first.
You should always be allowed to practice the basic gun safety procedures with an unloaded gun before you actually are allowed to fire the gun at a target.
These are the proper steps to check and see if a gun is loaded or not:
If it is a revolver, you must activate the cylinder release latch and swing out the cylinder. If it is loaded, there will be cartridges in the cylinder.
If it is a semi-automatic, you should pull out the magazine first. By activating the magazine release button, then pull out the magazine from the bottom of the grip.
After the magazine is removed, pull back the slide. If it is loaded, the ejector which is part of the slide will eject the cartridge.
Please be aware that these steps are for when you are at the range and under proper adult supervision.
If you have any questions at this point, don't hesitate to ask me.
---
---
Do you think that bullets can be dangerous all by themselves?
Bullets are really only one of the four (4) components of a cartridge.
If you find a cartridge for a gun outside your home or in the home of a friend, you really should treat them as if they are a real gun.
You should not touch it, walk away and tell an adult that you found a "bullet" or cartridge.
If a cartridge is found and tossed into a fire, it can explode and may injure you or someone around you.
A cartridge is not as dangerous outside a gun as it is when it is fired from inside a gun, but the bullet still may shoot out of the cartridge case a ways and harm you.
---
---
Take a short test on what you just learned. I will give you a situation and you have to decide what to do.
Don't forget to come back, there is so much more to come. You're not even half done with this page yet.
---
---
This is a printable agreement for both you and your parents to sign. This pact can save lives, so please pass it on to your friends.
Read, print and sign the gun safety pact with your parents.
---
---
Recently there has been quite a few highly publicized tragic events of kids bringing guns and sometimes bombs to school.
It is very important for you to realize that schools are still a very safe place to be. Incidents such as these are still rare, but they are a problem that MUST be addressed and addressed soon.
It is extremely important that if you hear another student say that they are going to bring a gun to school and hurt people, that you tell your teacher, your school principal and your parents. The police should also be notified because this type of threat is a crime all by itself.
Make sure you take these threats seriously and make sure you tell your parents at the very least.
It is up to your parents, teachers, school administration and the police to decide if the threats were serious. It is not your responsibility to determine if the student was serious or not.
In 75% of school shootings, other students knew about the shootings before they happened, but said nothing, did not take it seriously or was not taken seriously by people in authority.
In 80% of school shootings, the student who does the shooting had been bullied in the past. Bullying in school has always been a big problem.
Let me say a little more about bullies and getting bullied at school. There has always been bullies at school and there probably always will be. However, I feel that America's schools are the cradle of our country's future and there is no place for violence and bullies in school.
If you are bullied at school, be sure to tell your teacher, your principal and your parents. You should then insist on a meeting between your principal, a teacher, your parents, the bully's parents and a student representative.
In this meeting, you should discuss the bullying incident and how it affected you. You should also arrange with the principal and the teacher to have witnesses available.
Each participant in the meeting should have at least one (1) minute to discuss how this bullying event has affected them and give their thoughts and feelings about it.
DON'T BE ASHAMED ABOUT BEING BULLIED BY SOMEONE. THERE IS NOTHING TO BE ASHAMED ABOUT. A BULLY IS REALLY SOMEONE WHO FEELS BAD ABOUT THEIR OWN SELF WORTH AND PICKS ON SOMEONE TO MAKE THEMSELVES FEEL BETTER.
Much of the violence that occurs in school comes from students who belong in gangs.
Street gangs are merely replacement families for a lost generation of young people. There is no easy solution to getting rid of gangs, but the real solution lies in fathers raising their children according to the precepts and rules laid out for him by God in the Bible.
For more information on this subject, see my "Share The Solution" page.
---
---
IMPORTANT SAFETY TIP:
REMEMBER THAT A GUN IS ONLY A DEVICE THAT LAUNCHES A SMALL PIECE OF METAL AT VERY HIGH SPEED. THAT IS ALL A GUN DOES.
A GUN DOES ABSOLUTELY NOTHING BY ITSELF. A GUN ALL BY ITSELF IS NOTHING THAT SHOULD BE FEARED. IT IS ONLY A TOOL IN SOMEONE'S HAND.
---
---
Learning about firearms, how they work and how to handle them properly is the one true answer to stopping all accidental deaths. Please listen to me. I am a Certified Firearm Instructor and have been teaching gun safety and marksmanship for the last 15 years. I am also a Dad with two children. I really do care about putting a stop to accidental death resulting from the mishandling of guns.
Don't let anyone tell you that guns are bad. Guns are neither bad nor good. The truth is that loaded guns can hurt people if they are mishandled.
A gun is simply a device that can launch a small piece of metal at very high speed. They are neither good nor bad. They are just a tool or machine that can be dangerous, just like a chainsaw or other power tool.
If you are invited to a firing range by a parent, friend's parent, relative or another knowledgeable adult, please review the safe gun handling procedures below or on my "Safety Rules" page.
Remember, guns are not dangerous if they are handled properly and all safety rules and precautions are followed.
Never be afraid to ask questions when you are at the range. If someone hands you a gun that you don't know how to shoot, or don't feel comfortable with, place it down, with the barrel pointed at the targets and ask for further assistance.
NEVER PRETEND THAT YOU KNOW WHAT YOU ARE DOING IF YOU DON'T.
---
---
The Golden Rule Of Gun Safety:
The Golden Rule of Gun Safety is to ALWAYS, ALWAYS, ALWAYS, point the barrel of the gun in a safe direction. If this rule is ALWAYS followed, there will never be another gun accident.
---
---
Safe Gun Handling Rules
There are three (3) of them.
This is the Golden Rule of Gun Safety. If a gun's barrel never gets pointed at another child, there will never be another injury to children due to the mishandling of guns. (Unless you drop it on your toes, of course.)




There is a natural tendency for people to place their trigger finger inside the trigger guard when they handle a gun. This impulse MUST BE AVOIDED. The person handling the gun has to condition themselves to place their trigger finger alongside the frame of the gun, just above the trigger guard. The gun will ONLY fire, if your finger is on the trigger. Most times, when an accident happens, the shooter does not even realize that their finger is on the trigger.
NEVER TOUCH THE TRIGGER UNTIL YOU HAVE CLEARED THE RANGE, THE RANGE OFFICER TELLS YOU IT IS OK TO SHOOT, YOU HAVE ACQUIRED YOUR TARGET IN THE SIGHTS AND YOU ARE READY TO FIRE.
THERE IS NO OTHER REASON FOR YOU TO TOUCH THE TRIGGER UNTIL THEN.




This is the third and final rule of safe gun handling. DO NOT LOAD CARTRIDGES INTO A GUN UNLESS YOU ARE ABOUT READY TO USE IT.
A fully loaded gun, just laying there on the shooting bench, is a possible accident waiting to happen. ONE MORE TIME:
Do not load the gun, until you are about ready to fire it.
That's all three rules of safe gun handling. Please repeat them as many times as you can without getting too bored.
---
---
If you know a little bit about the history of America, you would know that America was once a colony of Great Britain. Because of the many abuses that the early colonists suffered at the hands of the King of England, George III, the colonists decided that the time had come to break away from England and its King. This decision did not come easily. England had the largest and most well equipped army in the world at the time.
It all began in September 1768, when there were some rumors going around of an impending occupation by British troops. The British troops were to occupy Boston to allegedly suppress riots and collect taxes. This of course inflamed the City of Boston.
A group of freeholders led by John Hancock and James Otis met at Faneuil Hall and passed several resolutions that would ensure that the inhabitants of Boston would not be disarmed.
For the next few years, disputes between the British and the Colonists escalated. The Boston Massacre occurred on March 5, 1770 where British troops fired into a crowd of civilians "armed" with sticks, further eroding relations between England and the Colonists.
By early in 1775, the British began carrying out a policy of disarming the Colonists. The Revolutionary War was sparked on April 19, 1775 when a group of militiamen that were exercising at Lexington, refused to give up their arms. This widely published account began when Major John Pitcairn in charge of a band of British troops yelled "Disperse you Rebels, damn you, throw down your arms and disperse."
On June 12, 1775 a British General, named Thomas Gage proclaimed martial law and offered a pardon to everyone who would lay down their arms except Samuel Adams and John Hancock.
The British used every means at their disposal to attempt to disarm the Colonists including banning imports, entrapment, deceptive promises of "safe keeping", direct seizure and the murder of those who continued to bear arms.
---
---
When the Revolutionary War was over, and we became a free and independent nation, it was certainly understandable that the former Colonists were afraid of a powerful central government that controlled a standing army. They intended that the States would have the majority of the power and that the federal government would remain relatively small.
The Second Amendment is sometimes known as the "Right To Keep And Bear Arms".
When the Second Amendment was proposed, they wanted to ensure that the States retained the right to form militias composed of all free men capable of bearing arms. These militias were made up of all men capable of handling a gun who were at least 18 years old and not more than 44.
An unarmed militia is not really a militia at all. So the reading of the Second Amendment is actually somewhat redundant.


The Second Amendment
"A well regulated Militia, being necessary to the security of a free State, the right of the people to keep and bear Arms, shall not be infringed."
The first part of the Second Amendment says "A well regulated Militia..." It is important for you to know that in the language of the new Americans, "well regulated" did not mean regulation by legislation. What "well regulated" actually meant was that a militia would be effective, efficient, well trained and able to carry out their tasks proficiently.
The very nature of a formal military body or army is to be well trained and proficient. Therefore, it is quite clear that the Founding Fathers intended that the militia mentioned in the Second Amendment was the Citizens themselves and not an official army.
If you don't believe me, take a look at the Quotes page.
The second part of the Second Amendment, says, "...the right of the people to keep and bear Arms, shall not be infringed."
This part of the Second Amendment completely guaranteed that the general population of the United States who were law-abiding citizens would always have the right to possess guns.
The words "the people" are used throughout the Constitution and the Bill of Rights. Every time the words "the people" are used, it was meant to include the whole body of the population.
It is also important for you to realize that in the Constitution, rights always refer to individual Citizens and powers are granted to the Government.
The Bill of Rights, which consists of the first ten (10) amendments, are actually an enumerated collection of "negative liberties."
By "negative liberties", I mean that the Bill of Rights does not really "grant" rights to the people. What it really does is list the pre-existing rights of truly free people and it limits or prohibits government action on those rights.
Governments throughout time, have always used their authority to gain power, influence and control over its population. The Founding Fathers knew this fact. That is why we have the Bill of Rights.
Allow me to quote:
"I hope, therefore, a bill of rights will be formed to guard the people against the Federal government as they are already guarded against their State governments, in most instances."
Thomas Jefferson to James Madison, 1788
Some people think that the Second Amendment only guarantees the States, the right to form militias. This interpretation is wrong and has no historical basis whatsoever.
There are millions of Americans today who own guns, enjoy target shooting, competition and hunting who believe that our own Federal and State governments are violating the Second Amendment to the United States Constitution, by passing laws that tell them what guns they can own, and what they can do with them.
I also believe that.
One of the central purposes of the Bill Of Rights and the Second Amendment was to give the People Of The United States as much help as possible to remain a free and independent people.
Remember:
The Bill Of Rights however did not "give" citizens their rights. The Bill of Rights actually was intended to prevent our own government from violating those pre-existing rights of the people under common law.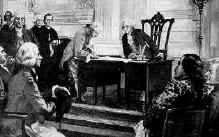 The Signing of the United States Constitution
To learn more about the people who signed the United States Constitution please click this link:
To learn more about what our forefathers meant and thought about the Second Amendment's meaning, please take a moment or two and review the quotes from the people who founded this country, on the Quotes Page on this Web site.
In order for us to really get a good grasp on what the Founding Fathers had in mind, when they wrote the Second Amendment, we must go back in time and hear them speak. The only way to do that is to read what they said.
I am quite sure that you will not read or hear these quotations from the people who wrote the Constitution while you are in school. So please take the time to read them now. It will be worth your time.
In fact, I would not be very surprised if their names are not even mentioned in your history books. Please do take a few minutes of your day and check out the Quotes Page.
---
---
The Second Amendment
(In Modern English)
When the Second Amendment was written, the Founding Fathers did not speak exactly as we do today. So, to the best of my ability, and through my research, I have tried to translate the Second Amendment into modern English. Here is how I think the Second Amendment would look, if it were adopted today.
"Efficient and well trained citizens are essential to the security of each State and that of the country, therefore, the right of law-abiding citizens of America to own and carry firearms cannot be violated by government."
---
---
A Little Right To Keep And Bear Arms History
On June 16, 1788, during the ratification of the United States Constitution, George Mason said "I ask who are the militia? They consist now of the whole people, except a few public officials."
The opinions of the Founding Fathers concerning firearms, did not spring up at the Revolutionary War. The concept of the male population belonging to a militia that safeguards the freedom of the public is a very old concept and dates back over 800 years.
Sir William Blackstone whose Commentaries written in 1765 is regarded as the most definitive work on Common Law ever written. In that book, he wrote that the people have "...the right of having and using arms for self-preservation and defense."
The Right To Keep And Bear Arms throughout history mainly centers upon three (3) things:
Owning, carrying and using arms as a member of a militia whose duties are to protect the liberties of the people from tyranny and attack.


It also centers upon the basic human right of self-preservation and self defense. Self defense is a basic right of human beings that precedes and supercedes any form of government.


Privately owned firearms guarantees the human being will have ready access to food. Hunting animals for food was a right given to us by God. In Genesis 1:28-30, the first chapter of the Bible, God gave us the animals and plants to use as food.
Genesis 1:28-30 NIV
28. God blessed them and said to them, "Be fruitful and increase in number; fill the earth and subdue it. Rule over the fish of the sea and the birds of the air and over every living creature that moves on the ground."
29. Then God said, "I give you every seed-bearing plant on the face of the whole earth and every tree that has fruit with seed in it. They will be yours for food.
30. And to all the beasts of the earth and all the birds of the air and all the creatures that move on the ground--everything that has the breath of life in it--I give every green plant for food." And it was so.
---
---
In 1833, United States Supreme Court Justice Joseph Story wrote in his Commentaries on the Constitution of the United States, talking about the duties of the militia "...the natural defense of a free country against sudden foreign invasions, domestic insurrections and domestic usurpations of power by rulers..."
He further said "...The right of the Citizens to keep and bear arms has justly been considered as the palladium of the liberties of a republic; since it offers a strong moral check against the usurpation and arbitrary power of rulers; and will generally, even if these are successful in the first instance, enable the people to resist and triumph over them."
Any questions?
---
---
Guns
A gun is a tool that is used to fire ammunition. A gun is simply a device that stores, aims and launches a small piece of metal called a bullet.
A bullet is made from lead, copper or steel or a combination of these metals depending on the bullet's purpose.
The gun was invented around the early 1280's
There are many types of firearms. Generally, they are divided into three (3) categories.
For more information on how a gun and ammunition works, please see the Firearms 101 Page on this Web site.
---
---
Gun Control Laws
Gun control is the very same principle involved as when a teacher at school punishes the WHOLE CLASS, because one of the students decided that he/she was going to misbehave and not follow the rules.
Keeping a whole classroom in detention because one kid did something wrong is very unfair. It is the very same thing, when all gun owners are punished and their rights are diminished and violated because some criminals decide to lead a life of crime.
Criminals will always find guns to use in crime. Taking guns away from people who obey the law is just plain wrong.
Strictly prohibiting or banning firearms will do nothing to curb violent crime, because the kind of people that commit crimes with guns, don't obey gun control laws.
Someone who is willing or inclined to commit murder or robbery with a gun, does not bother with getting a gun permit.
Anyone convicted of a felony, anyone who has been judged mentally incompetent, anyone convicted of a felony illegal drug charge and those who are underage cannot legally own firearms.
Felons are already prohibited from gun ownership and have been since the year 1968. But they are the people who commit most of the murders using firearms.
Why do felons use guns and why don't they obey gun control? That is because they are already committing more serious crimes and don't concern themselves with gun control laws.
That isn't really that hard to understand is it???
---
---
Think, Think, Think
Some people who don't know anything about guns, might try to tell you that a gun is a bad or evil thing. A gun is not a bad thing. A gun isn't evil either. A gun will only do what a person makes it do. No gun can fire at someone all by itself.
The truth is that some bad people sometimes choose a gun to do a bad thing with. Some people who don't know anything about guns, occasionally blame the gun when a criminal commits a crime with a gun. To blame a gun when a criminal shoots someone does not make any sense.
To say that a gun is bad when a criminal shoots someone is like putting blame on a car or truck for an accident when someone gets hurt or putting blame on a pencil for a misspelled word. Putting blame on a gun when it is used in a crime just doesn't make any sense. We must hold criminals responsible when they do bad things.
---
---
Thank you for reading this whole page. My long term goal is to reach one (1) child with this gun safety message who finds a gun somewhere and does the right thing.
---
---
IF YOU ARE LOOKING FOR THE KIDS QUESTIONS PAGE, GO HERE