NRA Membership
Learn more about the National Rifle Association and join the NRA.
This Page Last Updated 07/26/2016
Get $10.00 off the normal $35.00 National Rifle Association annual membership by clicking here!!
Full Disclosure Notice
(In compliance with U.S. Federal Trade Commission Guidelines)
Membership Recruiters for the National Rifle Association are not official employees of the NRA.
Furthermore, this is not an official National Rifle Association Web page. To go to the official NRA Membership check-out page, click here.
As an NRA Recruiter and Owner and Webmaster of www.SaveTheGuns.com, I invite you to learn more about becoming a member of the NRA and to join the National Rifle Association, by clicking any of the "JOIN NRA HERE" buttons shown below and in the left hand border of any page on this website. As an NRA Membership Recruiter and to be in full compliance with United States Federal Trade Commission Guidelines, I receive a small amount of monetary compensation twice a month from the National Rifle Association for members who join the NRA through this Web site.
| | |
| --- | --- |
| | There are more than 14,000 local gun clubs and businesses that are affiliated with the National Rifle Association. I encourage you to call your local gun club from your phone book and ask if they're among them. Don't just sit there, join the fight!! JOIN THE NRA TODAY. Check out the many benefits of joining the National Rifle Association below. |
GIFT AN NRA MEMBERSHIP AS A CHRISTMAS GIFT, BIRTHDAY GIFT OR FOR ANY OCCASION!!
Become a member of the National Rifle Association
See the NRA Membership types and prices below
WATCH THIS VIDEO AND THEN JOIN THE NATIONAL RIFLE ASSOCIATION
Not an NRA Member? Shame on you!
We would not even be having this conversation on the topic of gun rights in America if it wasn't for the hard work and dedication of the National Rifle Association. You say that you don't have the money??? An Associate Membership (no magazine) is just $10.00 per year, that's less than three cents (-$0.03) each day. Before you do anything else, do your duty and support the NRA through your membership. JOIN THE NRA TODAY. You can save $10.00 on a regular annual membership by using the link I've just provided, making it just $25.00. JOIN TODAY.
The National Rifle Association was formed in 1871 as a non-profit membership based organization by a small group of New York state National Guardsmen most of whom fought in the American Civil War.
It's object was for the improvement of its members in marksmanship and to promote aiming and drill practice. In 1877, its name was changed to the National Rifle Association of America. Its headquarters have been in New York, New Jersey, Washington D.C. and now in Fairfax, Virginia.
The NRA represents and promotes the best interest of gun owners and shooter-sportsmen and supports their belief in the ideals of the United States of America and its way of life. It is dedicated to firearm safety education as a public service, marksmanship training as a contribution to individual preparedness for personal and national defense, and the sports of shooting and hunting as wholesome forms of recreation. It stands squarely behind the premise that the ownership of firearms must not be denied to law-abiding Americans.
The National Rifle Association of America first got involved with members of the law enforcement and policing community way back in the year 1916. In 1916, the NRA began discussing formal and standardized marksmanship training for police officers. In 1920, the NRA helped establish a police school as part of the National Pistol and Rifle Matches at Camp Perry, Ohio. In 1926, the NRA started a competition and qualification program exclusively for police officers. Since then, the National Rifle Association has become an integral part of law enforcement training. Today, the NRA offers $25,000 personal accident insurance for members of law enforcement. Very few, if any national organizations of any stripe can boast of their associations with members of law enforcement, as the National Rifle Association of America can.
The purposes and objectives of the National Rifle Association of America are:
To Protect and defend the Constitution of the United States especially with reference to the inalienable right of the individual American citizen guaranteed by such Constitution to acquire, possess, transport, carry, transfer ownership of and enjoy the right to use arms, in order that the people may always be in a position to exercise their legitimate individual rights of self preservation and defense of family, person and property, as well as to serve effectively in the appropriate militia for the common defense of the Republic and the individual liberty of its citizens.

To promote public safety, law and order and the national defense.

To train members of law enforcement agencies, the armed forces, the militia and people of good repute in marksmanship and in the safe handling and efficient use of small arms.

To foster and promote the shooting sports, including the advancement of amateur competitions in marksmanship at the local, state, regional, national and international levels.

To promote hunter safety and to promote and defend hunting as a shooting sport and as a viable and necessary method of fostering the propagation, growth, conservation and wise use of our renewable wildlife resources.
The National Rifle Association has 55,000 Certified Firearm Instructors and 12,000 Law Enforcement Instructors who reach 800,000 people annually. NRA's Eddie Eagle Gun Safety Program has been used by more than 26,000 schools, law enforcement agencies and civic groups to reach more than 21 million children since 1988. NRA has over 10,000 affiliated hunting and shooting clubs. NRA sanctions over 8,000 target shooting tournaments annually.
Become a member of the National Rifle Association and join this dynamic and multi-faceted effort to protect and preserve not only the Second Amendment's right to keep and bear arms, but our entire republic. Without the Second Amendment, the rest of the Bill of Rights would most assuredly be eliminated or irreparably changed within a few short years.

---
---
Thank you for choosing SaveTheGuns.com as your NRA Recruiter
I would like to take a moment to thank all of my visitors who have made this page their own personal NRA Headquarters. Those visitors who keep coming back to this page to renew their NRA memberships or give NRA memberships as gifts are responsible for my success. I just want to take this opportunity to say thanks!
In August 2008, just after I recruited my 308th NRA member, I met Wayne LaPierre who is the Executive Vice President and Chief Executive Officer of the National Rifle Association. He wrote me this nice note below which says "Marc thanks for 300 members. It's for freedom. Wayne LaPierre 8/6/08"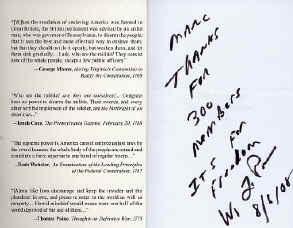 The thanks really doesn't belong to me. It belongs to all of my visitors who chose to get on the battlefield and join the NRA, instead of merely watching the battle and shaking their heads from a nearby hillside. The thanks belongs to you, my visitors.
Because of you, I ranked seventh (7th) in the United States for Independent NRA Recruiters for the Fall Quarter of 2008. I have also ranked in the Top Ten NRA Recruiters list in the world in 2008, 2011 and 2012.
---
---
Junior NRA Memberships

With the NRA Junior Membership, you'll receive a membership card embossed with your name, an NRA patch and a coupon book, which has savings on such things as air guns, safety glasses and other related products, in addition to the Family Insights enewsletter.
Firearm insurance, accident insurance, life insurance, a shooter's cap and all the benefits of a regular NRA Membership are not included in a Junior NRA Membership.
If we don't involve our children in our efforts to protect and defend freedom in the United States of America, the Progressive Liberal Democrats, Hollywood Elitists and the American history revisionist crowd will eventually will this battle. Freedom, liberty and justice must prevail. We must involve our children in this battle. I don't have to tell you what we're in for if you don't.
Get your child or grandchild a Junior NRA Membership today. Don't wait another day!!!!!
---
---
The Many Benefits of NRA Membership
The National Rifle Association offers many benefits to its members. Some of which, current members may not even be aware of.
$2,500 ArmsCare Firearms and Archery Equipment Theft & Fire Insurance.


$5,000 Accidental Death and Dismemberment Insurance.


$25,000 insurance policy for members of law enforcement killed in the line of duty. Law enforcement officers are also eligible for expanded accident benefits at a very competitive low monthly group rate.


$10,000 Accidental Death and Dismemberment Insurance for NRA Life Members.


Competitive group rates on Life, Health and additional Theft & Accident Insurance plans.


Your choice of annual magazine subscription to either American Rifleman, American Hunter or America's First Freedom. (sorry Women's Outlook magazine has been discontinued.) See more about choosing a magazine below!


NRA Junior Members receive an enewsletter called Family Insights at www.NRAFamilyInsights.org


A no annual fee NRA Visa Credit Card for qualified individuals.


A Prescription Eye and Prescription Drug Plan.


An Investment Advisory Service through NRA Personal Portfolios.


Legislative updates and important voting information on pro-gun candidates for public office from the NRA's Institute for Legislative Action (NRA-ILA) at www.nraila.org. These updates will be mailed directly to your home to help keep you completely updated on how you can help.


A Black & Gold Shooter's Cap.


A personalized I.D. card and a window decal to show your NRA Pride.


An impressive array of discounts from national corporations for things like car rentals, hotel stays, airline tickets, interstate movers, laser eye surgery, custom framing, paint, wallpaper and more. Many local businesses may also offer discounts to NRA members. These companies offering discounts to NRA members are companies like Hertz, Avis, Best Western, Days Inn, Howard Johnson, Amerihost, Knights Inn, Travelodge and more.


Check http://www.nra.org/affiliates.aspx for more discounts. Also check out http://www.nrahq.org/givejoinhelp/membership/disclist.asp for even more discounts by your own home state.


A 10% discount to LifeLock Identity Protection Services.


Discounted rates for Digital Home & Business Phone Services, Home Security Service and Cellular and Satellite Services through www.talknra.com.


But first and foremost, you get representation on the federal, state and local level by the most effective firearm and hunting rights organization in the country.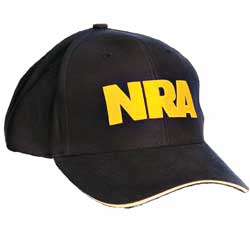 Join The NRA in Protecting Our Cherished Second Amendment!!
---
---
Membership Types and Fees
CHECK OUT NEW DISCOUNTS IN FEES COLUMN (AVAILABLE ONLY THROUGH OFFICIAL NRA MEMBERSHIP RECRUITERS LIKE ME)
Membership Types

Fees

One Year Memberships

One Year Regular Membership

$40
$30 ($10 DISCOUNT)

One Year Associate Membership (No Magazine or Voting)
$10
One Year Junior Membership (17 years and under) Insights magazine (15 yr+ choose one regular magazine)
$15
One Year Junior Membership (17 years and under) Insights plus one magazine of choice for $10 more.
$25

Multiple Year Memberships

Three Year Membership
$100
Five Year Membership
$140

Life Memberships

Life Membership Regular
$1,500
Junior Life Membership (18 years and under) Insights magazine until age 15
$750
Distinguished Life Membership (age 65+ or Disabled Veteran)
$750

Easy Pay Life Memberships

Easy Pay Junior Life Membership ($25 down and then $25 per quarter for 29 payments)
$750
Easy Pay Distinguished Life Membership (age 65+ or Disabled Veteran, $25 down and then $25 per quarter for 29 payments)
$750
Easy Pay Life Membership ($25 down and then $25 per quarter for 59 payments)
$1,500

Other Options

Any Additional Magazine Per Year
$15
Foreign Postage Per Year
$5 Canada
$10 Other
Join Online Today and Get These Great Discounts and Receive Your Materials In About Four To Six Weeks.
---
---
Choosing an NRA Magazine
One of the things you'll have to do when you're making out your NRA Membership Application, is to choose which magazine you're going to begin receiving each month. Let me help you out in deciding which magazine best fits your particular points of interest. Let's discuss each magazine choice and how they might suit you best.
American Rifleman- Is the premier magazine produced by NRA Publications for firearm enthusiasts, American Rifleman utilizes the foremost experts to provide coverage devoted to firearms of all types, ammunition, reloading, optics and other shooting accessories.
American Hunter- Is the largest circulation all-hunting magazine in the world. With more than one million readers, American Hunter offers expertise on how and where to hunt all types of game in North America. Reviews of hunting equipment and services, as well as coverage of political developments of particular interest to hunters, are part of each popular issue.
America's 1st Freedom- Is NRA's pure news magazine. America's 1st Freedom tells the truth about the threats to our 2nd Amendment right to keep and bear arms. Delivering professional, compelling, accurate, timely and hard-hitting journalism, America's 1st Freedom's editorial profile clearly defines the issues surrounding the Second Amendment and our basic firearm rights.
NRA Insights- NRA Junior Members will receive access to an enewsletter called NRA Family Insights. http://www.nrafamilyinsights.org/
For more information on these magazines, please visit the NRA Publications Web site at www.nrapublications.org.
---
---
No Thanks, Not Today...?
If your answer is "no thanks" or "not today", I would respond by saying why not? Our United States Armed Forces are deployed around the world defending human freedom and we need real patriotic Americans to stand up here at home and defend freedom from our own elected officials.
"No thanks." or "Not today." are not the words that I need to hear from you.
How can we defend and promote human freedom around the world and sit back and allow our own state and federal governments to become more and more tyrannical with every passing year?
If your answer is that you don't want to join the National Rifle Association today and that money is a problem, I would respond by saying; "that's quite alright, however please be aware that you can save $10.00 off the normal $35.00 one year membership if you join through the NRA through this link. Pay only $25.00 today through this web site.
Furthermore, if money is a problem, then please try to set aside just fifty cents a day (50¢) and come back next year at this time. That's right, it's less than fifty cents a day to join the NRA through the above link.
After joining, you'll receive your NRA Membership Package in about four to six weeks and your Official NRA Magazine will follow every month. Plus you'll have the peace of mind and the great feeling that you've decided to help defend freedom.
If you're already a multi-year NRA member or maybe even a Life Member, that's great and I thank you, but did you know that you can and should be giving out memberships in the National Rifle Association as gifts? That's right, through my special link, you can give NRA memberships as gifts for birthdays, anniversaries, Christmas and other gift-giving holidays.
In my opinion, this fight of mine and the NRA is not simply about recreational target shooting, gun club sponsored marksmanship competitions, gun collecting or even hunting. It's about freedom itself. It's more about freedom than mere firearm ownership. An armed citizenry was envisioned by the Founding Fathers as the final check upon the power and reach of our own government.
Won't you stand up for freedom with me today?
About ninety five percent (95%) of America's lawful gun owners are not currently members of the National Rifle Association. If you still choose to remain in the 95% of gun owners who've done nothing to defend the Second Amendment, that decision is entirely up to you and you alone.
I'll bet that if your family has been in America for a while like mine has, you'll realize how much freedom we've actually lost in the past two hundred thirty plus years. You see I am in the thirteenth generation of Mayflower descendents. I have had family in the United States during every single event in U.S. history. From stepping off onto Plymouth Rock in Plymouth, Massachusetts in the year 1620 to this very moment, members of my family have been here defending freedom. Now it's my turn to defend freedom in my own way. If you choose not to stand with me, please do something this year to protect the sacrifices of my family in this country over the past almost 390 years.
You'll feel better if you just buckle down, get out your credit card and join the NRA right now.
---
---
Frequently Asked Questions About NRA Membership
Q: When do I receive my NRA hat?
A: The Black & Gold Shooter's Cap is a new member benefit only. Inside the new member's credentials package that should arrive in 4 to 6 weeks, there is a postcard that must be returned if the member would like a new hat. New members also have the option of calling 1 (800) 672-3888 and request that the hat be sent.
Q: What is an Associate Membership? I heard it was ONLY TEN DOLLARS ($10.00)??
A: Formerly called a Liberty Membership, this level of membership in the NRA allows one to become a member for only $10.00. The only difference is that no magazine is included in the membership and there are no voting privileges for the NRA's Board of Directors.
Q: Why do I receive so much mail and requests for money from the NRA?
A: Because the NRA is a non-profit association, they cannot use membership funds to sponsor the political fight to help preserve the Second Amendment. The political arm of the NRA, called the NRA Institute for Legislative Action (ILA), operates primarily upon donations. In addition, the mailings are informational, keeping members up to date on current legislative issues. If a member wishes to reduce the amount of mail they receive, they can call the Membership Hotline at 1 (800) 672-3888 or 1 (877) 672-2000 and speak to a membership specialist and request to be removed from the mailing list or other mail limit options.
Please also keep in mind that there are about 90,000,000 firearm owners in the United States and only about 6,000,000 are members of the NRA. NRA members are burdened with supporting and defending the rights of about 94% of America's gun owners and the NRA appreciates any time you can contribute or help support the Second Amendment.
Q: Can I still get American Guardian Magazine?
A: In May of 2000, the American Guardian magazine was replaced with America's 1st Freedom magazine. America's 1st Freedom focuses on legislative and political topics closely related to lawful firearm ownership. The American Rifleman magazine has since been expanded to include topics on personal protection to help fill the void left behind by the discontinuation of American Guardian.
Q: Why are there two different options for Junior Membership?
A: The NRA offers both a $15 Junior Membership and a $30 Junior Membership. The $15 Junior Membership comes with an enewsletter called NRA Family Insights and the $30 Junior Membership comes with the Family Insights enewsletter plus a choice of American Rifleman, American Hunter or America's 1st Freedom magazine. An older Junior Member, may enjoy receiving a magazine that is also geared toward adults and this is why it is also offered.
TAKE ACTION NOW!

Join the NRA now, before you forget! Already a member? Give an NRA Membership away as a gift!
---
---